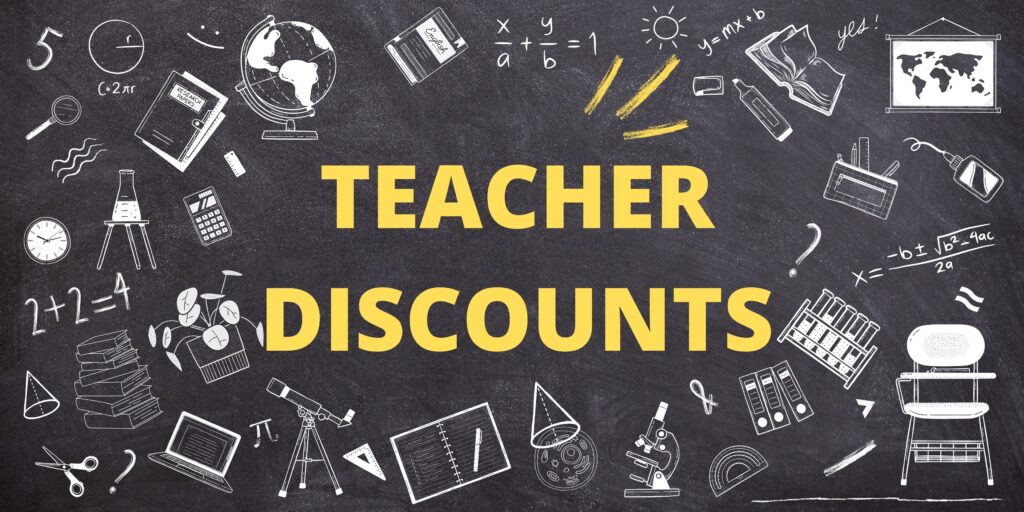 Before I started my own business, I was an educator. In all honesty, I still consider myself an educator; I'm just no longer in a college classroom. My son has been so incredibly lucky to have some amazing teachers; I'm talking outstanding, loving, inspirational human beings. I'd venture to guess that everyone has a memory of a teacher who was special to them. Many businesses show their appreciation by offering a discount or special promotional program. The list you find below is composed of mostly national offers.
In addition to these offers, I know many local places offer teacher discounts, too. For the purpose of this post, I wanted to stay general in order to meet the needs of a wide-ranging audience. Please feel free to share this list with all the wonderful teachers you know!
Disclaimer: I am providing the most up-to-date and accurate information I can find via the websites I have provided links to below. Deals/offers could change at any time, so definitely check with the store or website.
Back-to-School Offers
Academy Sports and Outdoors
From 7/31-9/5 all teachers and school staff can get 10% off in store and online.
Academy | Teachers Appreciation
Dollar General
Now through Sept 9th, get 30% off a school supplies purchase at Dollar General. This offer is valid for faculty or staff at K-12 schools, college professors, and homeschool teachers. You must have a dollar general account. Verified via SheerID.
Dollar General: Teacher and Military Savings – SheerID for Shoppers
H-E-B (Texas)
HEB is giving 20% off school & office supplies and select household items. Teachers need to fill out the online form by 8/27 to receive the coupon and must use their coupon by 8/30.
https://www.heb.com/static-page/teachers
Target
Target is giving 15% off 1 school supplies purchase through Sept 10th. Get verified below to get the coupon.
Target Circle™ Rewards program
General Tip:
Before we get into the individual stores, you might be wondering how these stores verify your teacher status. While some stores might just require you to show your teacher ID, other stores are part of a larger verification group. I found 3 main ones: ID.me, SheerID, and VerifyPass. Consider checking these sites out in order to access a number of discounts.
A teacher friend of mine signed up with VerifyPass and said the process was simple and quick.
Offers | Teacher Discounts (verifypass.com)

ID.me is another large verification group. Now, my teacher friend said this one was a bit more complicated, and she decided to skip the sign-up process due to how much information they asked for. However, you can check it out here : Top Teacher Discounts and Deals | ID.me Shop
The third one where you can find a number of offers is called SheerID. The verfication process is here: Teacher Deals and Discounts from SheerID
Stores
Adidas
Teachers get up to 30% off. Verfied via ID.me
https://www.adidas.com/us/discount-programs
Ann Taylor Loft
Teachers get an extra 15% off now through August 30th, 2022. This 15% discount has been offered year-round in the past, but I am only able to find information with the 8/30 date as of now.
Loft Loves Teachers | LOFT
Asics
Get a 20% discount on any full priced item! Verified via SheerID
Special Savings for Community Heroes – SheerID for Shoppers
Aveda
Aveda offers a 20% discount for teachers and this one is verified via SheerID.
Teacher Deals and Discounts from SheerID
Barnes and Noble
Educators get 20% off items for classroom use. They also have special Educator Savings Days where you can get 25% off. Sign-up for free in store.
https://www.barnesandnoble.com/h/bn-educators
Champion
Educators, even retired ones, get 10% off at Champion. Verified via ID.me.
Teacher id (champion.com)
Colombia
10% discount and verified via ID.me.
https://shop.id.me/stores/506-columbia-sportswear
Costco
Join Costco as a new member and get a $30 digital gift card. Verified via ID.me.
https://hosted-pages.id.me/costco-teachers-offer
Crocs
15% discount on all full-priced style Crocs. Verfied via SheerID.
https://www.crocs.com/teachers.html
Dockers
25% discount on all Dockers apparel. Verfied via SheerID.
https://us.dockers.com/pages/teacher-discounts
Eduporium
Educators can join the educator discount program and get up to 20% off STEM purchases.
EDUCATOR DISCOUNT (eduporium.com)
Glasses.com
Educators can get special discounts at Glasses.com. Currently, the site is showing 50% discounts for teachers and requires verification via ID.me.
Glasses Deals & Sunglasses Discounts 2022 | Glasses.com®
Half-Price Books
Get 10% off year-round. Sign-up for your educator discount card in store.
Madewell
Madewell typically offers a 15% discount for teachers, but are currently upping that to 20%!
Teacher & Student Discount | Madewell
New Balance
25% off for educators. Verified via ID.me.
Discount for Military, Teachers & More – New Balance
Overstock
Teachers get a free Club O membership. Includes 5% in rewards on every purchase, free returns, and price match guarantee.
Club O Teachers & Students | Overstock.com
J. Crew
15% discount for students and teachers!
Teacher Student Discount | J.Crew (jcrew.com)
JoAnn
Sign-up for a Teacher Rewards Digital Discount Card and get 15% off every purchase, every day.
Teacher Rewards Registration Form (joann.com)
Levi's
Save 15% on items for men, women and kids at Levi's. Verified via SheerID.
Levi's: Military, Medical Professionals & First Responders Save 15% – SheerID for Shoppers
Michaels
Get 15% off your entire purchase, including sale items. You must show your school ID.
Get Your 15% Off Teacher Discount | Michaels
Reebok
Up to 50% discount for educators! Wow! Verification via ID.me.
Reebok Discounts: First Responder, Military, & Student | Reebok US
UGG
10% off full-priced items. Verified via SheerID.
Promotions & Discounts | UGG® | United States
Vera Bradley
15% discount online. Verified via ID.me.
https://verabradley.com/pages/appreciation-discount
Vineyard Vines
15% off everything. Verified via SheerID.
https://www.vineyardvines.com/verification-teachers/
World Market
Educators get 15% off. This includes in-store and curbside purchases. Verified via SheerID.
https://www.worldmarket.com/category/everyday-hero-discount
Zappos.com
Zappos is offering 10% off every order! Verified via SheerID.
Zappos: Military, Student, and Teacher Offers – SheerID for Shoppers
Pro Tip:
If you are doing online shopping, don't forget to shop through Rakuten where you can get cash back! Also, if you are brand new to Rakuten, you can get $30 back on your first purchase of $30 or more with this link:
https://www.rakuten.com/r/TSHACK48?eeid=28187
Things to Do
AMC Theaters
30% off black tickets and 40% off yellow tickets. Verfied via VerifyPass.
AMC 30% Off for Teacher (verifypass.com)
Caesar's Palace
Up to 30% discount. Verified via ID.me.
https://www.caesars.com/deals/hotel-student-teacher-discounts
Cinemark Theatres
25% discount on anytime tickets. Verified via VerifyPass.
Cinemark Theatres 25% Off for Teacher (verifypass.com)
Crayola Experience
Teachers get a FREE Bronze Pass with current teaching certificate and photo ID at the admissions counter. The website did not indicate this was for Florida residents only, just call to verify.
Crayola Experience Coupons & Special Offers | Orlando, FL
Gaylord Hotel
The Gaylord offers special Educator Appreciation rates. Make sure to ask about this when booking your reservation! Double check with any Marriott property to see if they also have educator discounts. I know the JW near me has offered educator rates in the past.
Gaylord Hotels Teacher Appreciation Rates* (marriott.com)
GM Vehicle Purchase
GM has an educator appreciation offer! According to their site, "Current employees of a public school, private school, college or university or their sponsored spouse* can receive a special offer on the purchase or lease of eligible, new Chevrolet vehicles. Plus, you can combine this with most current offers."
https://www.gmeducatorappreciation.com/about-the-discount/
Kennedy Space Center
Teachers can get an Educator's Study Pass that offers them complimentary access to the visitor complex. Teachers must verify their educator status at Will Call with specific documentation. More details can be found on their site.
Educator Study Pass | Kennedy Space Center
Orlando Science Center
Calling all Florida teachers- this one is just for Florida Pre-k through 12th grade teachers! Free general admission with school photo ID, or pay stub with photo ID.
Plan Your Visit to Orlando Science Center Today!

Perot Museum
Free general admission for current k-12 teachers in Texas, Oklahoma, Arkansas, Louisiana, New Mexico, and Mexico.
Perot Museum Admission Discounts
Regal Theatre
35% discount on anytime tickets. Verified via VerifyPass.
Regal Cinemas 35% Off for Teacher (verifypass.com)
Shed Aquarium
Educators from Illinois, Indiana, Michigan and Wisconsin can receive a complimentary Shedd ticket by reserving tickets online below.
https://www.sheddaquarium.org/plan-a-visit/get-tickets/discount-and-free-days
Sea World
If you live/teach in the same state as one of the Sea World locations, educators qualify for a FREE teacher card. That gives Pre-k through 12th grade teachers complimentary access. This is verified via ID.me. Offer valid for Texas teachers at Sea World San Antonio, Southern California and Arizona teachers at Sea World San Diego, and Florida teachers at Sea World Orlando.
Conservation and Wildlife Teacher Resources| SeaWorld Parks & Entertainment
Showcase Cinemas
20% discount on anytime tickets. Verified via VerifyPass.
Showcase Cinemas 20% Off for Teacher (verifypass.com)
Talladega Super Speedway
Up to 50% off tickets. Verified via SheerID.
https://www.talladegasuperspeedway.com/special-offers-teachers/
Texas de Brazil
15% discount with a valid teacher's ID.
Service Member & Teacher Discount | Texas de Brazil
Walt Disney Resorts
Teachers and support staff qualify for up to a 25% discount (at the time of booking) at the Disney World Swan and Dolphin Resorts.
For Reservations: Contact us at 1-888-828-8850 and ask for promotional code TEACHERS RATE or when booking online, make sure Promotional Code ZTC appears in the Corporate/Promo code box. Valid teacher or school issued ID required at check-in to receive this offer.
https://swandolphin.com/offers/
Westgate Resorts
Educators get 10% off the best available rate.
https://www.westgatereservations.com/teacher-travel-discounts/
WonderWorks
While this offer is currently closed, it's one to keep an eye on to see if they offer it again. They offered free admission for teahers and support staff for the entire month of May 2022. This included 50% off admission for up to 4 guests, too!
https://www.wonderworksonline.com/orlando/teacher-appreciation/
Electronics and Software Deals
Microsoft Programs for Education
Students and Educators (at eligible institutions) can sign-up for Office 365 Education for FREE! This gives eligible individuals access to programs like Word, Excel, PowerPoint, Teams, and One Drive. Visit the website below and enter your school email address to determine eligibility.
Free Microsoft Office 365 for Schools & Students | Microsoft Education
Additionally, teachers can register for FREE classes. Some of these classes teach how to use the Microsoft programs, others are topics like Literacy Solutions and Creating an Inclusive Classroom.
https://www.microsoft.com/en-us/store/workshops-training-and-events/?icid=StudentsandEducators_CC_Expertlearning
Microsoft also offers 10% off products for students, parents and teachers.
Devices for Students, Parents & Teachers – Microsoft Store
Adobe Creative Cloud
Save over 60% on the Creative Cloud All Apps plan if you're a student or teacher. The current cost is $19.99 per month and this price is good for 1 calendar year. The all apps plan includes programs like Photoshop, Premiere Pro, Lightroom, and Illustrator. More details can be found on their website.
Adobe Creative Cloud for students and teachers | Adobe Creative Cloud
Canva
Canva for Education is offered free for current teachers and K-12 students. Canva allows you to create engaging classroom lessons and activities. They also have pre-made templates. Additionally, they offer classes with tips on how to incorporate Canva into the classroom.
About Canva for Education – Canva Help Center
Apple Education Discounts for Students
Special education pricing is available for college students, their parents, and faculty, staff and teachers of all grade levels. For more information, visit their website.
Back to School – Education Discounts – Education – Apple
QuickBooks
Educators can register for a QuickBooks Online Plus subscription for free for 12 months and a free subscription of QuickBooks desktop for 3 years. Please see more details and requirements on their website.
QuickBooks – Education | Intuit
Education Program at HP
The HP website currently states that teachers (with a valid .edu email address), as well as college students, can save up to 77% during their back-to-school sale. You must register with your school email address.
Teacher & Student Discounts | Save up to 40% | HP® Education Store
Verizon
Teachers can save up to $25/mth on all of Verizon's unlimited plans.
Verizon Plan Discounts for Teachers & Their Families
Teacher Resources
While I was searching for the best teacher discounts, I noticed a number of free resources for teachers. These resources include things like lesson plans, templates, videos, virtual field trips, etc. all from reputable companies and agencies. I will work on a list of these learning and teaching resources and get that posted on my blog, too!
If you are aware of additional teacher discounts, don't hestiate to reach out to me via email and/or drop a comment on this post. I will add to and update this document over time.