Just before summer starts each year, I normally sit down with my son and ask him what he's hoping to do over the summer, as well as tell him what I expect from him. It is a great opportunity to learn what he's interested in doing, as well as clearly map out guidelines for what being home from school looks like with two working parents.
This summer I knew (much to my dismay) I wouldn't be taking any vacations. My son has an aversion to "camps," so that makes things a bit challenging sometimes. When I sat down with him this year and asked what he wanted to do, his answer surprised me. He wanted to take piano lessons and he wanted to have a once-a-week family game night. As I inquired further, he asked if we could play a different game every Friday night at dinner time. In hindsight, this makes a lot of sense. I have been working a lot lately, and I know he has been missing additional time together. Also, anytime we have people over, we love to play games. Even when it's just adults, we typically play something fun. Minute to win it games, anyone?
So, family game night happened; we played a game once a week all summer long. I honestly wasn't "looking" for frugal family fun, but this definitely fell into that category. Dinner at home, playing games, being silly and competitive was fun and didn't cost us anything.
Just so you know, we are all competitive; we all want to win. I mean, I'm not going to be disappointed if I lose a game of slap jack, but I'm certainly going to try my best to win, if you get what I'm saying. We each took turns choosing a game to play.
Now, how is any of this helpful to you, dear reader? Well, I figured I would share our favorite games with you. I always love when people share games they've played and enjoyed, so I wanted to share with y'all. I'm also pretty sentimental, so anytime I play a game that someone has given me, it makes me think of the special person who gave me the gift. So, here I am, sharing my favorite games with you.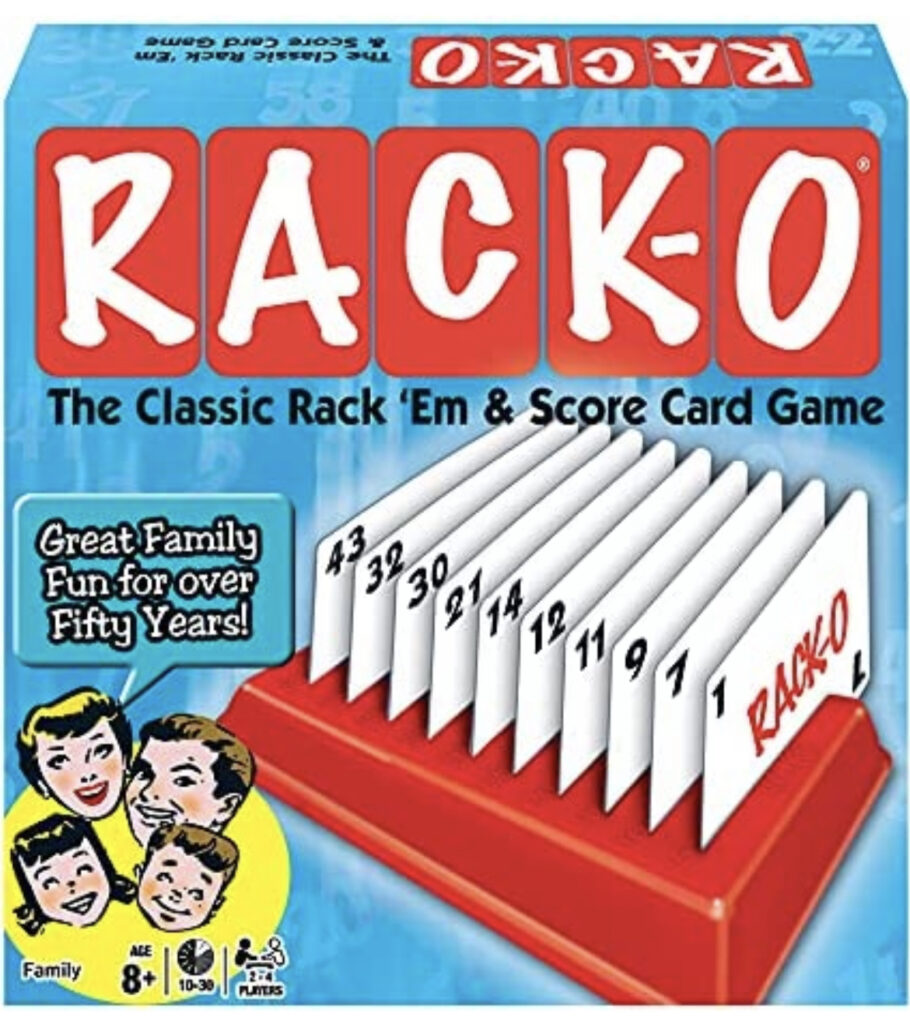 This game was a gift given to my son by one of his friends. Apparently, this game has been around since 1956. The goal is to get the cards in numerical order from lowest to highest, discarding and selecting one new card at a time. Racko is ideal for kids ages 8 and up is and can be played by 2 to 4 players. You can play one round in about 15 minutes, more or less. We normally play a series of games and let the points add up over those individual rounds to determine and overall winner.
Get it here: https://amzn.to/3yjJNg6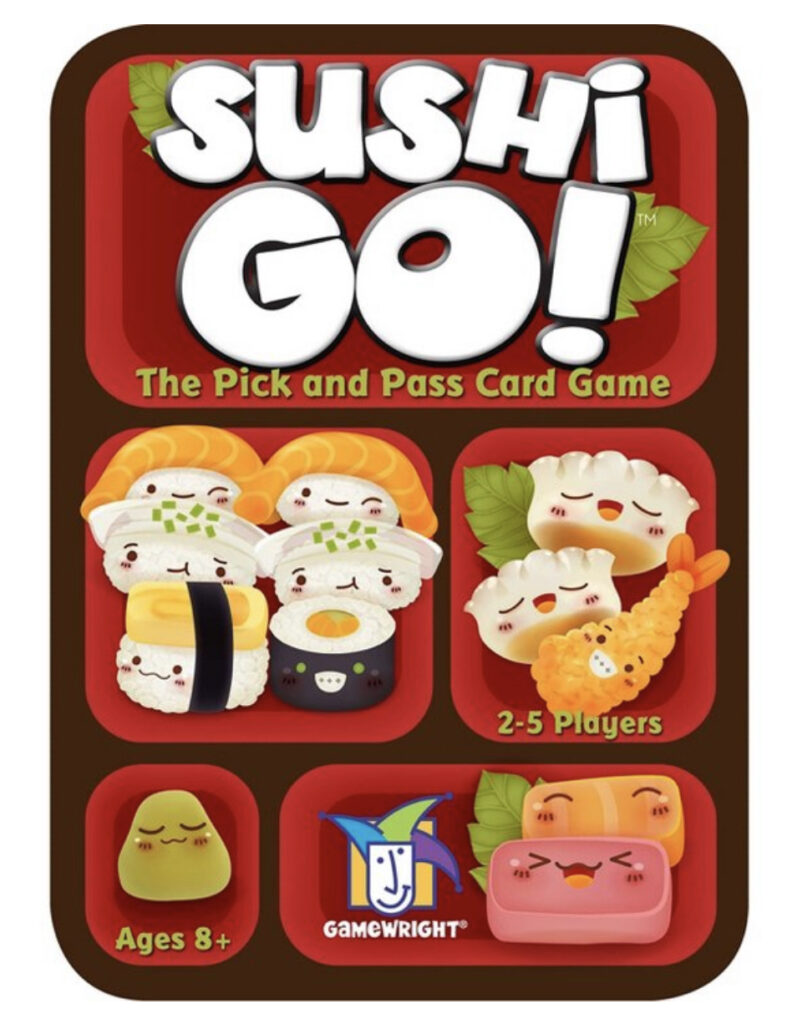 The same sweet friend who gave us Racko, gave us Sushi Go; I think they have great taste in games! This card game is seriously fun and helps with strategic thinking and probability concepts. Sushi Go can be played by 2 to 5 people, but I'm pretty sure we've played with more than that. Each type of card is worth a different number of points and the goal is to earn as many points as possible. This is a fast paced game and is recommended for ages 8 and up.
Get it here: https://amzn.to/3rweT0i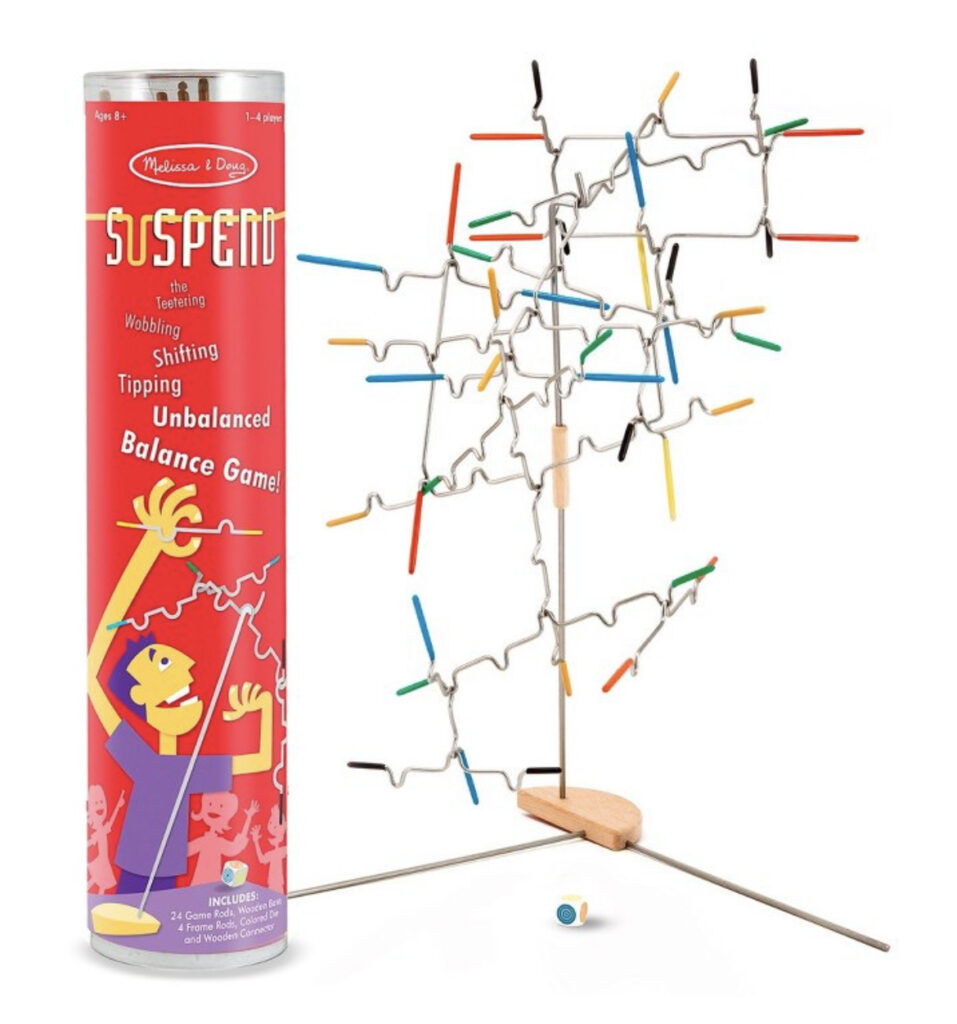 This one was given to us by our beloved martial arts instructor and his family. This balancing act game is great for families. Suspend can be played by up to 4 people, and it's recommended for ages 8 and up. A kiddo younger than 8 would likely still be just fine playing, especially if they are a good sport! Essentially, you roll a die and then add the corresponding colored piece to the creation, trying to make sure it doesn't topple over. This is a great game to build hand-eye coordination!
Get it here: https://amzn.to/3CesgXY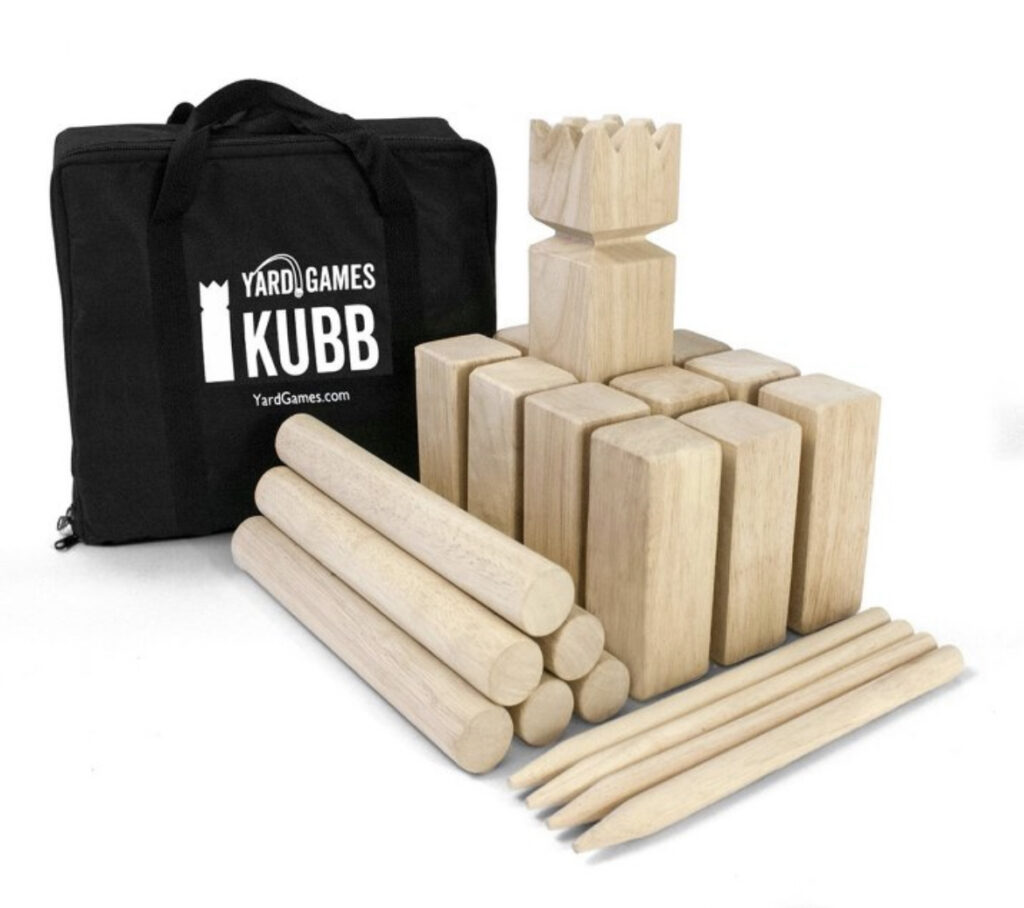 I played this game while visiting a friend at their lake house- talk about fun memories! It is a super fun yard game that can be played by up to 12 players and is great for kids and adults! The recommended age is 6 and up, but my husband and I had a TON of fun playing this one with our friends and the kids. This game is a bit more expensive, so I haven't purchased it yet. I keep hoping I'll find it on an after summer clearance sale.
Get it here: https://amzn.to/3ymjjut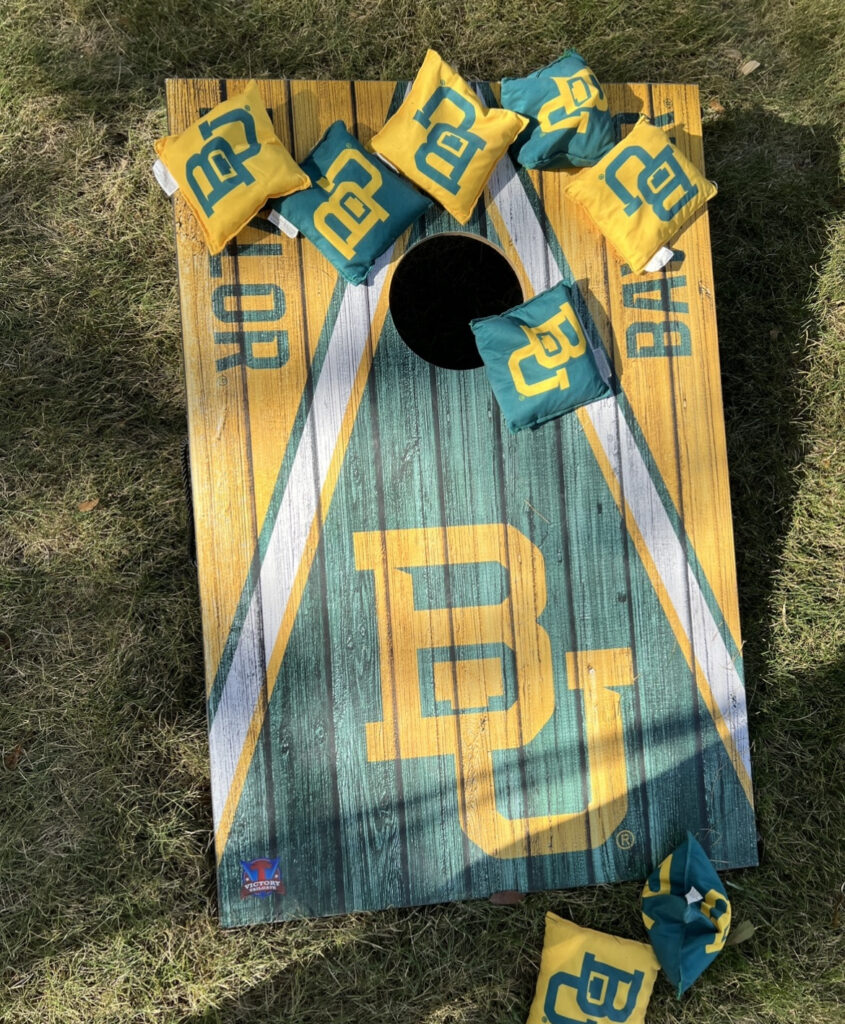 Another classic outdoor game that is GREAT for a variety of ages is cornhole. We received ours from my parents for my birthday and always enjoy playing it. The set I have is college themed, but the one I linked above has really good (and a lot) of ratings! I've participated in a number of cornhole tournaments at this point, the last one being at my son's family birthday party. We had kids from age 13-71 all enjoying the game!
Get it here: https://amzn.to/3CO6Out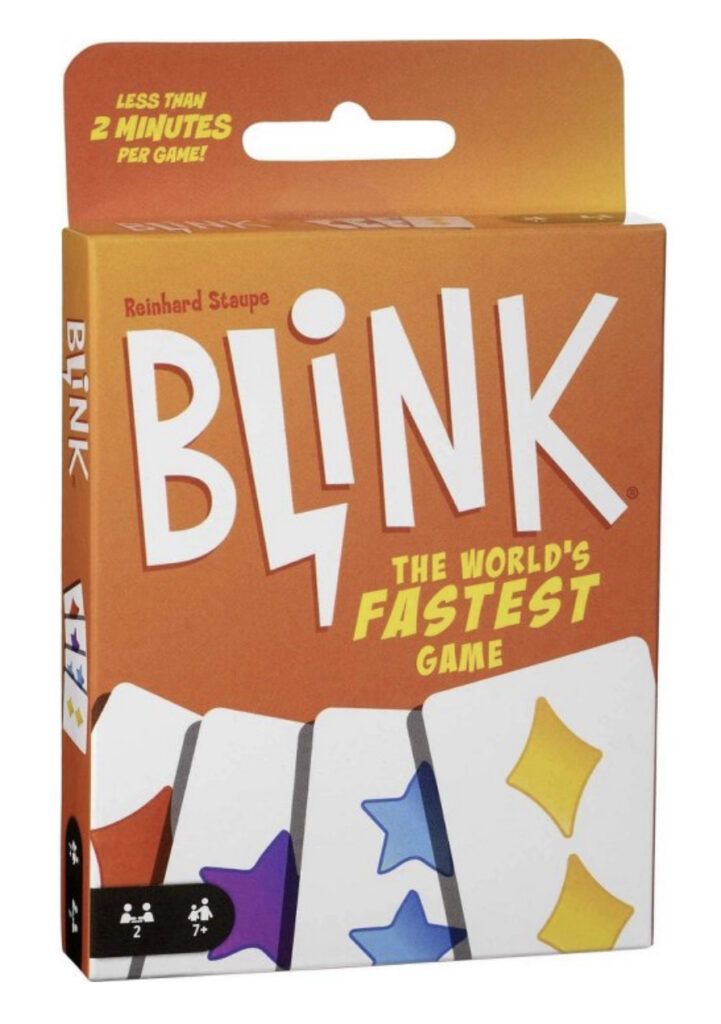 This is one of my very favorite games! Why? Because you can play in about 2 minutes or less! Sometimes I don't have a lot of extra time, but I want to connect with my kid and have a little fun. We can play this game 5 or 6 times in just 15 minutes. This was a great one for summer when I was taking a quick break from work and hanging out with my son. It's also an easy one to carry around with you so you could play at the park or wherever the day takes you.
Get it here: https://amzn.to/3Cdis0o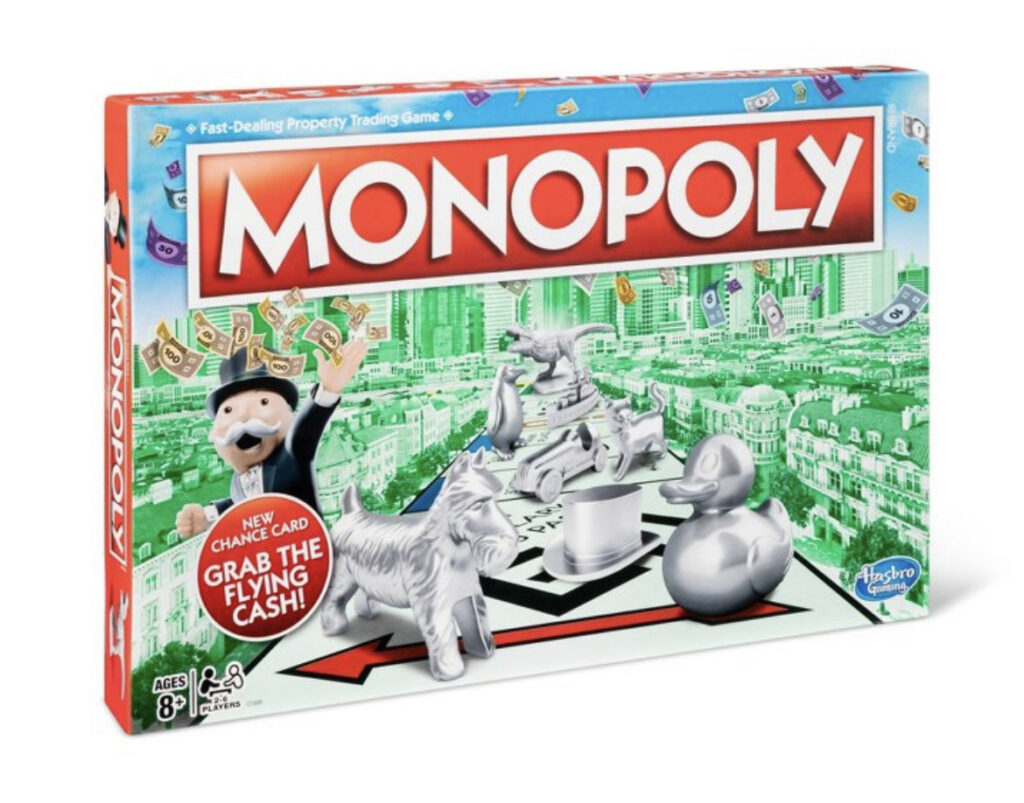 Hear me on this one, Monopoly IS NOT my favorite game. However, when I asked both my son and my husband what their favorite board game was, they both said monopoly. I feel it important to share their fav, as we all have unique perspectives. The game is great in so many ways- it's a wonderful learning opportunity for kids. The downside for me is how long the game takes to play; I just don't have the patience for it.
Get it here: https://amzn.to/3em43aa
It doesn't require a lot of games to have a fun family game night. You don't even need to spend a lot of money. To keep variety without over-spending, consider a game swap with other friends and family.
PLEASE drop a comment of one of your family's favorite games.