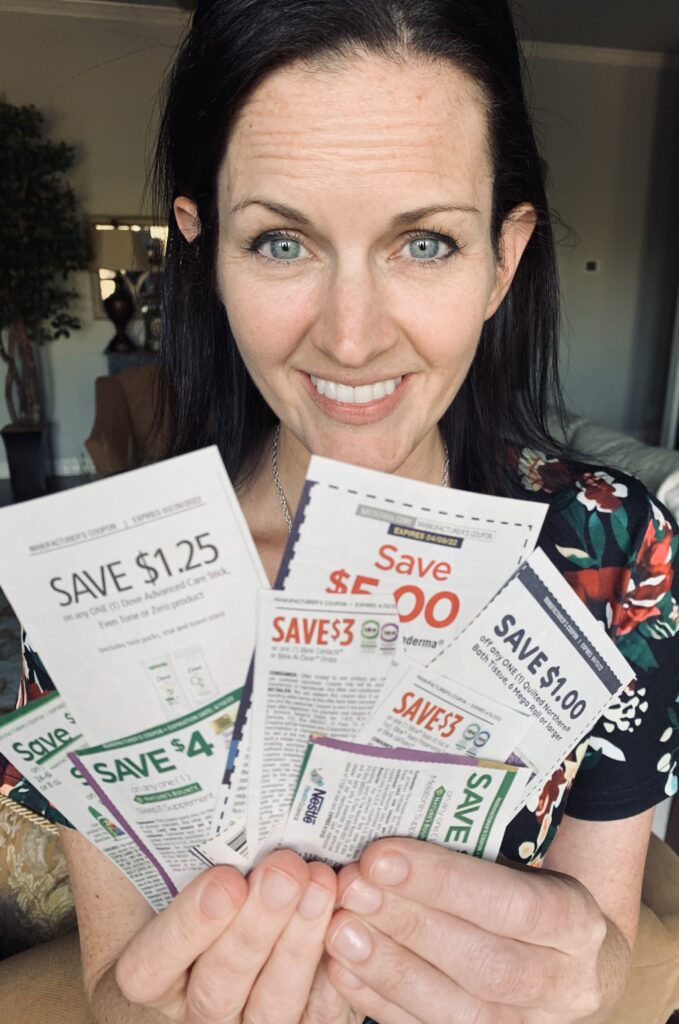 Using coupons is a great way to reduce your overall spending at the grocery store. With digital coupons and cash back rebates increasing, clipping coupons has never been easier. If you aren't quite sure where you can find all the best coupons, you've come to right place.
Are coupons worth the time? For me, yes. That's a decision you have to make for yourself, but you clicked on this article, so I'm thinking you're at least a little interested. Since we are all different and shop differently, I'm going to tell you about a number of different options for acquiring coupons.
Newspaper Inserts
One of the most popular ways people secure coupons is through the coupon inserts in the newspaper. The majority of these coupons come on Sundays, but occasionally they come mid-week in the paper and/or local store flyers. The main coupon inserts are the SAVE, Smart Source and P&G inserts.
Subscribing to your local newspaper will allow you to get the paper at a reduced rate; getting it delivered weekly to your home will likely be cheaper than purchasing a paper each week at the store. You might also consider asking friends, relatives, or neighbors for their unwanted coupons, too. Businesses you frequent that receive the newspaper might consider giving you theirs; just ask!
Printable Coupons
An easy way to get coupons is to print them. A number of different sites exist but let me share a few reputable ones with you.
Printable coupons from Coupons.com is a great place to start. This is one of the main places I go when I want to print a coupon. Most of the time you are able to print these individual coupons twice. Sometimes the coupons will reset and you will be able to print again.
You can also find printable coupons for Proctor and Gamble Products at PG Good Everyday. This is a great site that also allows you to earn points for P&G purchases. Learn more about the program HERE.
Are you a Pepsi Fan? Sign up for Pepsi Rewards and get access to printable coupons AND up to 20 coupons mailed to you per month! HERE
Store Digital Coupons
One of my FAVORITE places to get coupons is from the store's app. So, whether you are shopping at CVS, Walgreens, Sprouts, HEB, Target, etc., download the app for that store and browse through all the available digital coupons. Using these coupons is as simple as "clipping" and then scanning a barcode or entering a phone number at checkout. Some of the apps even allow you to scan a product, and it'll immediately show you if a product has any available coupons. It's so easy and take almost no time at all.
Cash Back Apps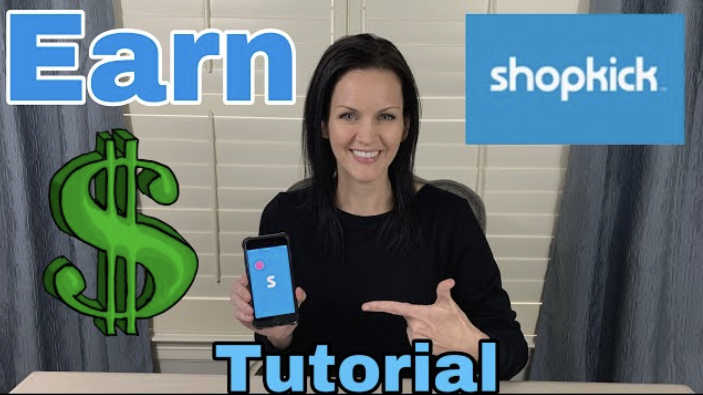 While cash back rebates aren't technically "coupons," I couldn't NOT mention them. Cash back apps are my favorite way to save because it's so easy. I then roll the rebate money directly to my bank account or to store gift cards (like Target, Walmart and CVS) to pay for my next grocery run.
Here are a few of my favorites you should check out. I also have full tutorials on each of these apps explaining how to use them! You can find all the tutorials HERE.
Ibotta Sign up (FREE) & use code noixlw to earn $10
Shopkick Sign up (FREE) & use code SWC5 to earn $5
Fetch Rewards Sign up (FREE) & use code W5UYJ to earn $10
Brandclub Sign up (FREE) & earn $10+
Swagbucks Sign up (FREE) & earn $3
On the Product
Have you ever heard the term "peelie" or "hangtag" coupons? When you see a coupon attached to a product in the store that you peel off to use, that is considered a "peelie" coupon. If you find an item you need that has one of these coupons, just peel it off and use it at checkout. Hangtag coupons are just "hanging on" the product. You might also find little blinking machines with coupons that pop out or tearpad type coupons beside a product.
As you are opening products at home, don't forget to take a quick peek and see if there's a coupon included inside or on the packaging. I recently bought cereal and noticed a few coupons on the back of the box. Score!!!
Directly from the Company
Some companies will mail coupons out to their loyal customers. I recently emailed some of my favorite brands and requested coupons; I was pleasantly surprised with the response I received. It only took me a couple minutes to pop on over to their website to find the best contact info and then shoot over an email with a request for coupons. I will be creating a blog post with this information soon! But, here's one of my favorites: I emailed Chobani and they sent me 5 coupons! I got three coupons for $.75 off any product, one for a 52 oz Oat Milk for FREE and one for any one single-serve product for FREE! WOW!!!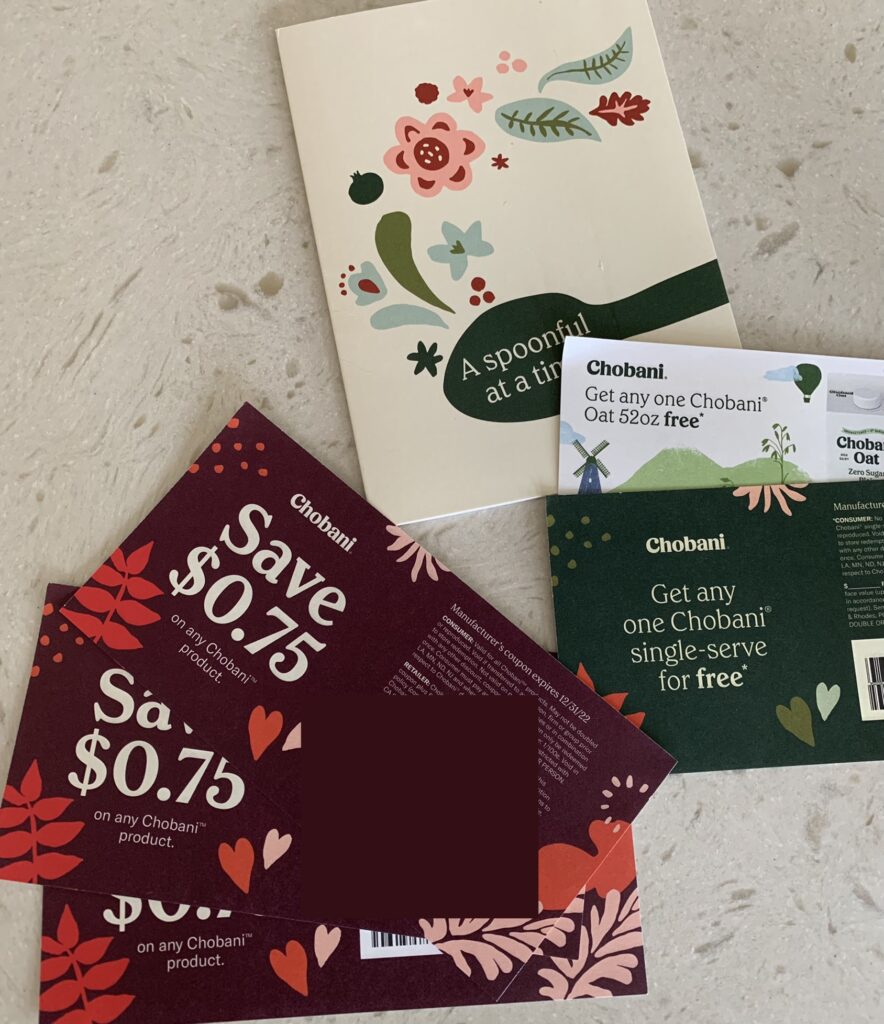 Additionally, when you visit the manufacturer's website, look to see if there is a tab for coupons and/or an option to sign up for a newsletter. Many times, signing up for their newsletter or emails will result in receiving money savings coupons, too!
For example, Mucinex currently has a $5 coupon available to print HERE.
Atkins also have a few printables available HERE.
Social Media Sites
I guess this is where the cools kids are finding coupons these days! So many companies are utilizing social media accounts to connect with their loyal customers. Following your favorite brands on their social media accounts is a great way to hear about new products and promotions, as well as score unique coupons. Many of the companies that responded to my inquiries said that following their social media accounts was the best way to secure the latest deals.
Whether you utilize one or more of these strategies for acquiring coupons is completely up to you! You might consider trying out a few of the above to find which options work best for you.