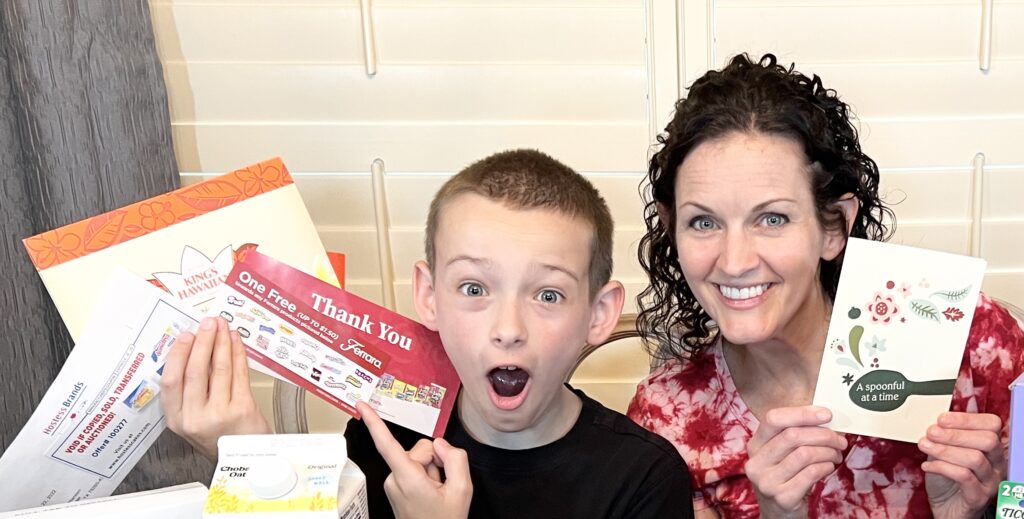 You can get coupons in a variety of ways (see article here), but one of those ways is directly from the companies of products you love! I recently started emailing companies asking if they ever mail coupons to their loyal customers. I was pleasantly surprised at the response. Below I will tell you the companies that responded and the coupons I received.
Contacting Companies
Of course, I contacted a number of companies because I was doing research for this blog post, specifically. But the first place I started, and where I suggest you start, too, was with the companies we love! I took a minute to look through my pantry and fridge at all the brands we typically buy. Then, I popped on my computer to find the website for each of those companies. Most of these companies have a "contact us" form or provide an email address that I used to send a quick email asking if they would send me coupons or if they offer any other type of savings programs. With some of my very favorite products, I even told them what I liked about their products and/or how it helps my family. I wrote (what I thought) were some pretty funny emails. I will continue to email companies and add to the list below as coupons come to me in the mail.
What I Got
Amy's sent me 4 coupons total. $1 off any two burritos, $1 off any 2 soups, $1 off any 1 entree, $1.50 off any 1 full-sized pizza. When I ate dairy-free, I learned about Amy's and I really enjoy their products.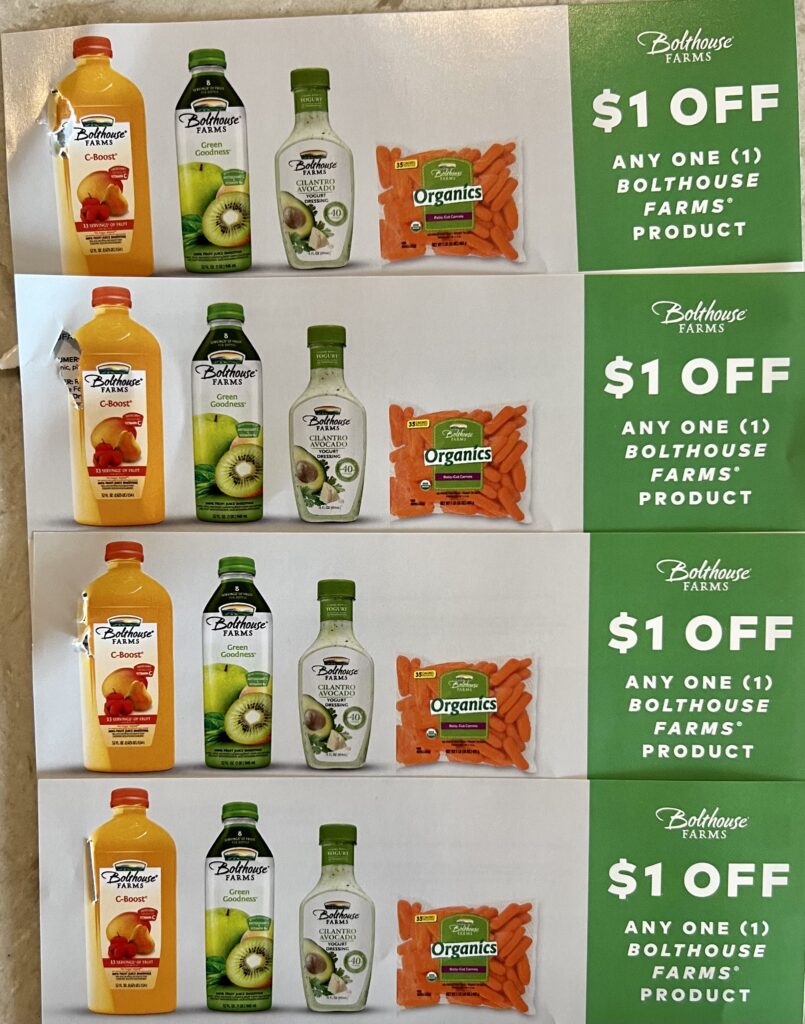 We love the Bolthouse Farms carrots! So, I wrote to them to let them know and asked if they ever mailed coupons. They sent me 4 $1 off coupons in the mail! I might use these coupons to try out some of their other products!
I've always enjoyed the products from this company. Beans are a staple in my household, and I particularly enjoy this brand. They mailed me 2 $.55 coupons off any two Bush's beans.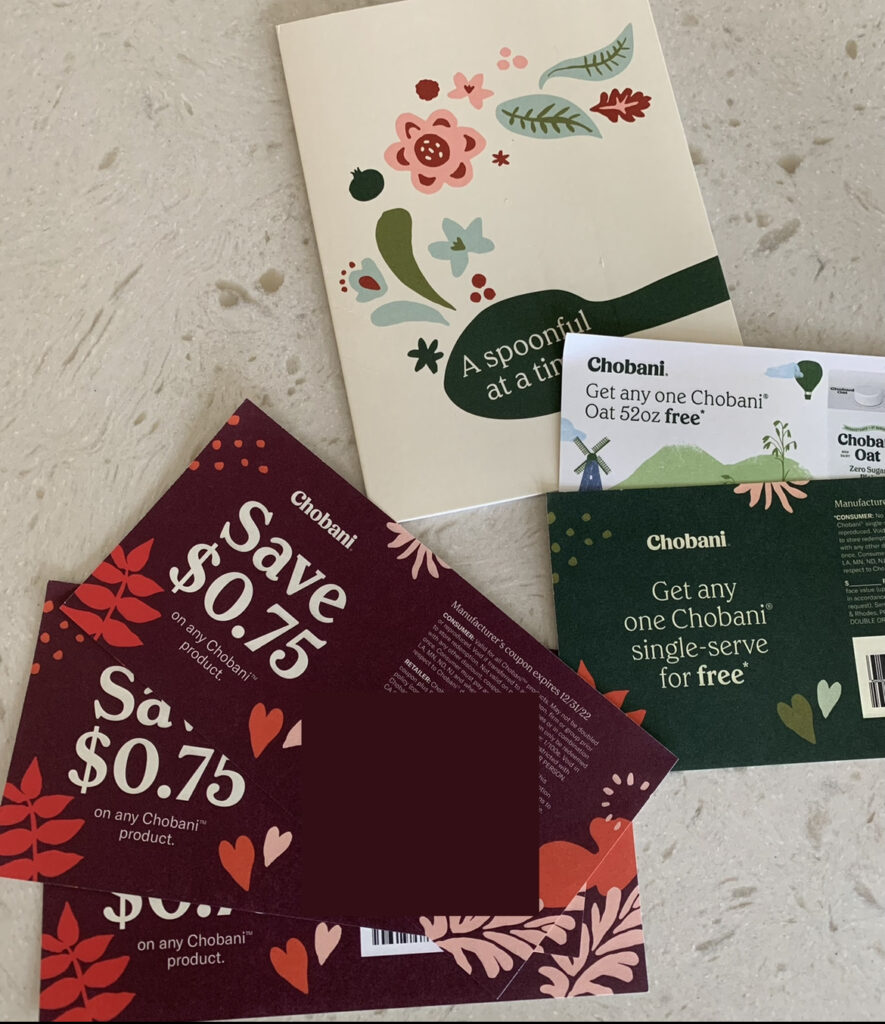 One Free 52 oz Oat Milk, one free single-serve Chobani item, and 3 $.75 coupons. They also hand wrote me a note and told me I could write in for more coupons next month. What?!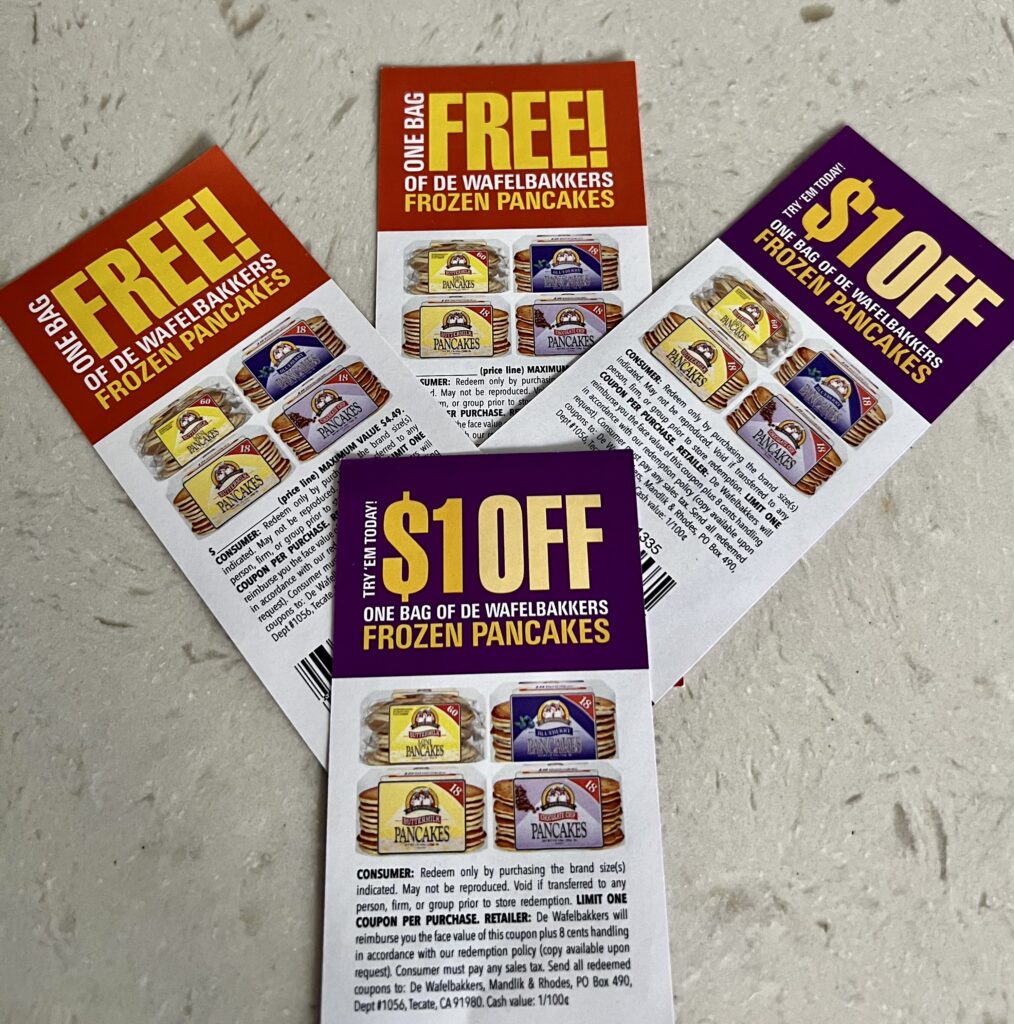 My son absolutely LOVES their frozen mini pancakes. Apparently, this brand is far superior to anything else he has tried. When I emailed the company to let them know, they were so pleased. They mailed me 2 coupons for a FREE bag and 2 $1 off coupons, too! If you have a favorite brand and/or product, email them and let them know! Companies tend to appreciate the positive feedback.
One Free (up to $1.50) toward any Ferrara product. Products include: Trolli, Black Forest, Laffy Taffy, Nerds, Lemonhead, SweetTarts, FunDip, and more.
One Free single-serve Hostess product coupon.
Received 2 $.50 off any one Flipz item (4 oz or larger) coupons.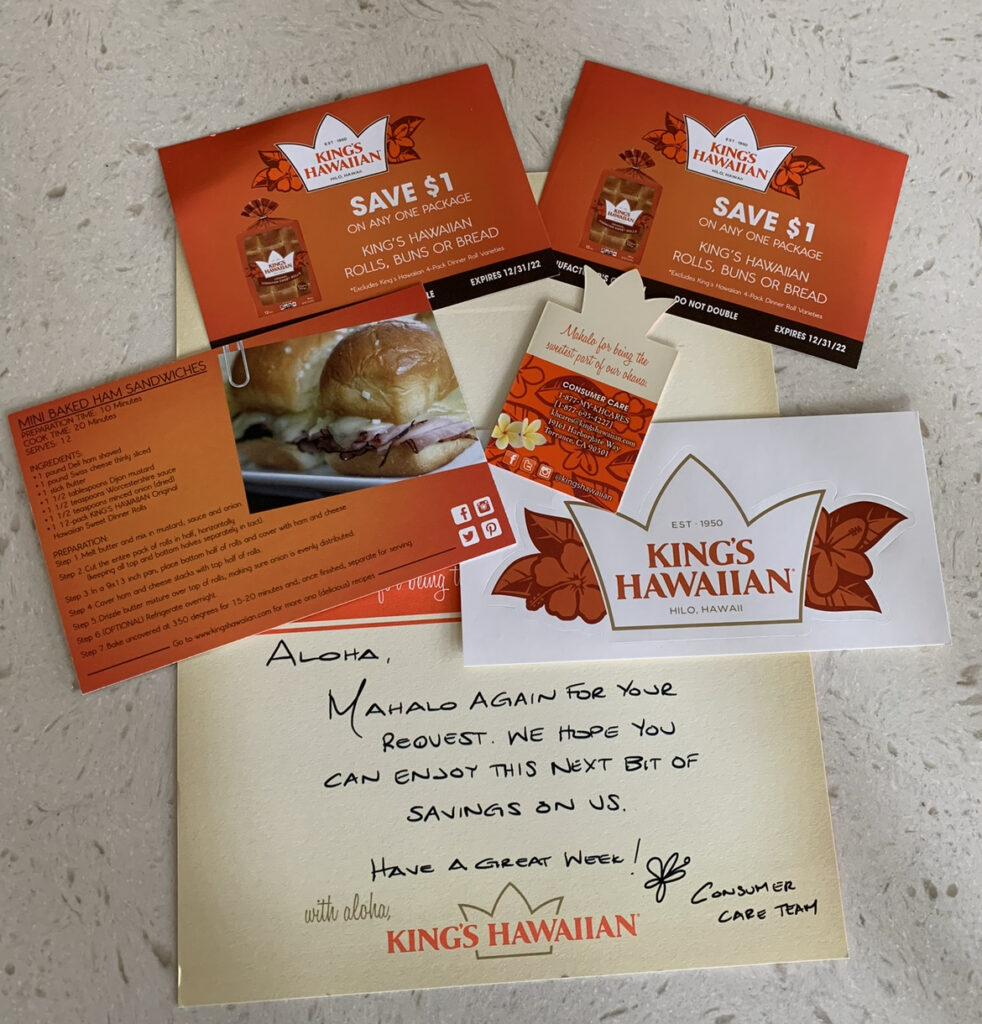 Mahalo from King's Hawaiian! They sent me 2 $1 coupons on any rolls, bread, or buns. And a super cute sticker!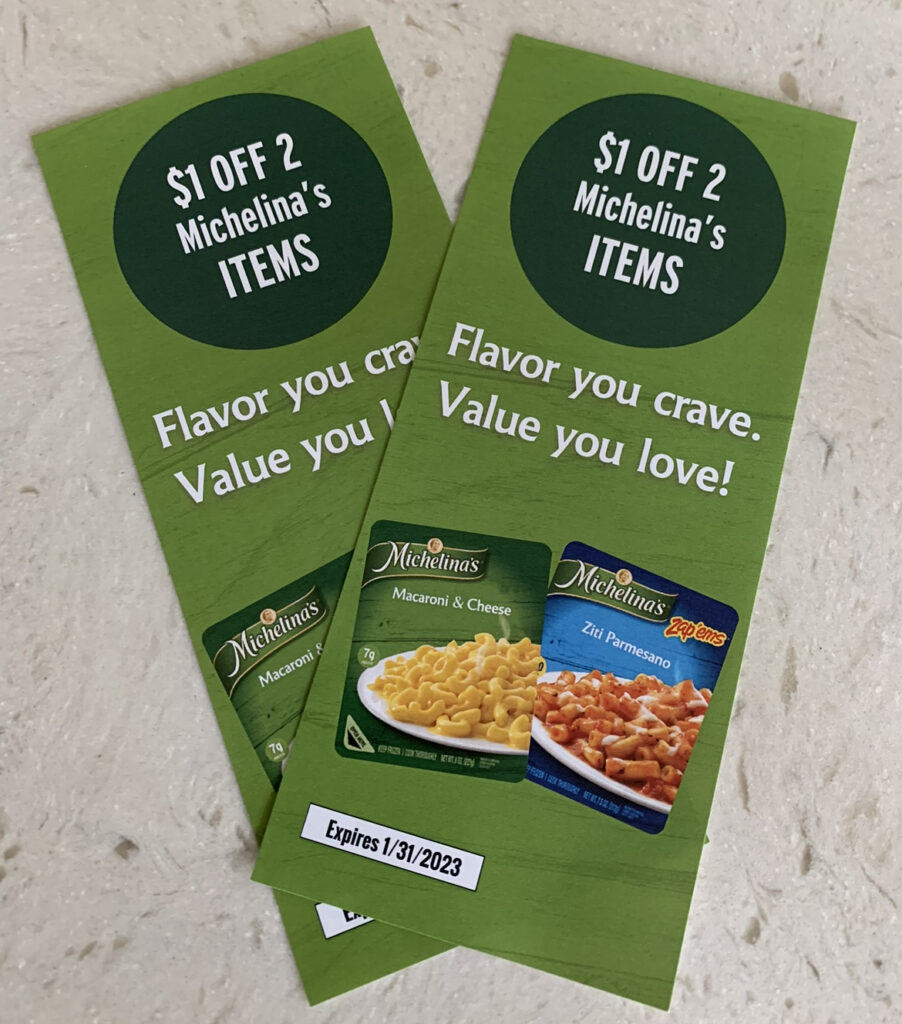 I first learned of these products due to an Ibotta offer. They sent me 2 $1 off 2 Michelina's products coupons.
2 $1 off any Red's product and 2 $1 off any 2 Red's Products.
How to Make the Most of Coupons
Of course, we want to make the most of our coupons, right? I suggest keeping an eye on any cash back apps you use for offers on these products and combine the coupon with a rebate. This method will allow you to use your coupon AND get cash back on the rebate app. I use apps like Ibotta, Shopkick, Fetch Rewards and Brandclub. I just used my FREE Chobani oat milk coupon and paid zero dollars at checkout AND got $1 back on Ibotta for buying it! I made $1 buying the milk!
Advice Received
Some of the companies responded by thanking me for my feedback and suggesting I follow their social media accounts for the latest deals, offers, promotions and/or new product launches. If there is a company or product you really love but want to save some money on, I suggest finding their social media channels. Additionally, many companies have their own email list and/or newsletter- signing up for these is another method of receiving money saving coupons!
While I am a bigger fan of digital coupons and easy, digital rebates, paper coupons are still a great option. If you are making the transition to more digital methods of saving, I have tutorials on a number of great rebate apps. You can find those HERE.